Why Trust Us.
GroupOne gets to know you, your business, and your goals to develop solutions for those unique needs. Whether it's networking, hosting, or email, on-site or remote, we'll get you what you need to scale up, step out, or just better maintain your usual excellence.
Tony Bozzuto
- Bozzuto & Company Insurance Services, Inc.
To Whom It May Concern,
Bozzuto & Co. Insurance Services has been working with GroupOne It since 2012. They started with us by providing a data backup service that allowed us to back up our data onsite and offsite. We then brought them on to maintain and monitor our servers and from there our relationship grew. They now handle all of our IT related needs including desktop support, software support, VOIP phone support, fax and hardware needs.

We have been very happy working with Chris and his staff at GroupOne and look forward to continuing the relationship with them for all our IT needs.
Bozzuto & Co. & GroupOne
Bruno Johansson
- Beck Consulting
To whom It may concern,
I am writing this letter of recommendation for Group One Consulting, Inc. as they have provided managed IT service for Beck Consulting for more than 3 years now. We originally chose Group One Consulting based on our interaction with their very knowledgeable people during our vendor research process. It was clear to us that they possessed the technical expertise we needed but what set them apart was their true interest in our business and how they might be able to enhance and grow our business through a technology partnership with them.

During the years working with Group One we have been exposed to their staff and we have received excellent service from everyone that have been assigned to work on our account. The Group One team is very responsive, respectful and willing to go the extra mile to support our business and ensure our IT service run smoothly.

They have a great technical staff with a wide set of expertise that are truly committed to serving their customers. The team does a great job of working with our staff and communicating in terms we can understand to help resolve issue when they arise.

It is exceptionally comforting to know our IT infrastructure is stable and reliable so we can focus on our core business without any systems distractions. We have literally not seen or touched our many servers, that are now hosted in the Group One managed data center, since we signed up for the service 3 years ago! That is awesome!

I would not hesitate to recommend Group One Consulting as my first choice in a field where we have a lot of options. I will be happy to answer any questions you might have with respect to this recommendation or Group One.
Matt Shanahan
- Clinton Polley Insurance Brokers
To Whom It May Concern:
Clinton Polley Insurance Brokers has relied on Group One IT to support a number of critical IT components since July, 2014. Group One IT provides a wide array of services which is great for our one-man IT department. Whatever your IT department looks like, they can tailor a solution for your needs. I have worked with the entire staff at Group One, they have a great team, top to bottom. I am on a first name basis with most of their support staff and after 2 years, I've never been disappointed.

Phones:
The hosted phone solution has a very user-friendly interface. We carefully compared it against a competitor on Broadsoft's UC One platform. Thanks to great support, it does exactly what we want it to do and the cost is competitive.

Backups:
They have saved us multiple times from loss of critical data just in the past year. I highly recommend them for onsite and offsite backups.

Server Room Support:
Chris Wiegman personally helped me design and assemble our server room components. Today they maintain 4 servers, 4 switches, a firewall, and backup power. Inevitably technical issues have arisen, but they continually impress me.

IT Consulting:
Chris also helped coach us in a dispute with Comcast and connected us with specialized council. We saved a great deal of money thanks to this. He also used his connections at AT&T to help us get AT&T's new EMUX based fiber in our building. We along with Group One were one of the first in the country to get it. Now we're achieving 500x100 megs fiber for under $500/mo.

User Desktop Support:
We have not used this service yet, but it's much cheaper than hiring another IT tech, even entry level. Based on our positive experience with server support, it's something we need to look into.
Clinton Polley Insurance Brokers
Phyl Clempson
- Eco Thrift
To Whom It May Concern:
I am very pleased to write this letter of recommendation in my capacity as Vice President on behalf of the Group One organization. As our company expanded we realized we needed to align with a company that could provide all nine of our locations the hosting, networking and ancillary services necessary to maintain a very active and secure company.

I personally vetted several companies and was pleased to introduce this company to our President and our IT team whom readily agreed with my recommendation to end our fifteen year relationship with our IT provider and sign a contract with Group One.

Group One has demonstrated their ability to collaborate with our previous IT support company. The handover was conducted with the outmost professionalism. They were able to communicate and create a code of conduct that has allowed me to maintain a relationship with our previous provider. I valued this a great deal.

It is with absolute confidence that I can recomment this company. You will find them progressive, supportive and sensitive to your needs. We are a company with five hundred employees that place a high value on response time. This was absolutely critical in order for our company to feel secure with the services Group One provides. They have exceeded our expectations.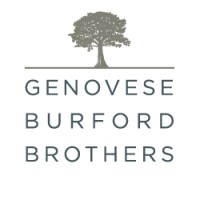 Angie Butler
- Genovese Burford & Brothers
To Whom It May Concern:
I am pleased to recommend the IT & network services provided by GroupOne. We have been using GroupOne for over 10 years and as we have grown, they have grown with us.

Due to the nature of our industry, it is critical that our systems are fully operational during market trading hours, and when a problem does arise their response has been very timely. We are also a heavily regulated industry with cyber security being on the top 5 areas of primary focus by the regulators. GroupOne has been a willing partner alongside us in making sure we are fully compliant even if it meant changing their business model.

In summary, our experience with GroupOne has been positive, and I highly recommend their services.
Genovese Burford & Brothers
William Glasser
- Fluency
To Whom It May Concern:
Fluency, Inc. is a SaaS company that hosts and licenses an online scheduling and back office solution to language service organizations that provide face-to-face spoken word and American Sign Language (ASL) interpretation. We have worked with Group One Consulting since 2014 on special projects unique to our environment and on an ongoing status for our server maintenance. Group One Consulting is an energetic, focused company that has provided innovative solutions and consistent reliability to Fluency, Inc. A major project we undertook in Q4 of 2015 involved changing datacenters. Group One Consulting proved invaluable in the planning, hardware acquisition, setup and configuration of our new enhanced network environment during this transition. Following their suggestion we reconfigured our environment to take advantage of virtualization and thereby were able to downsize the amount of servers, while enhancing our efficiency and speed.

Additionally, our clients are hospitals and local government agencies were data security, data integrity and HIPAA compliance is of upmost importance. Group One Consulting has worked with us to implement our continuous security and backup plan that is efficient and allows us to maintain compliance and continuity that meet best practice standards for our network infrastructure and data.

The demands of this industry necessitate leaders who understand the importance of data confidentiality, integrity, accountability and network reliability. Group One Consulting meets our needs consistently with excellent communication, follow through as promised, and an eye towards budget that is greatly appreciated. I highly recommend Group One Consulting for any network consulting needs and I believe wholeheartedly that Group One Consulting will exceed all expectations.